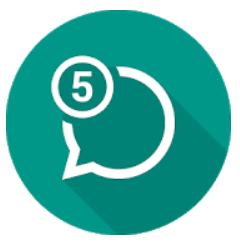 With Dashdow What App you get an application that shows you unread What App messages in a small ball on the screen. Also on the lockscreen you can now directly see who has written to you and especially what.
Functions:
– Shows messages from contacts in balls
– Click on ball opens a dialog with message content
– Click on dialog opens the What App conversation
– Dialog opens automatically on new messages
– Remove balls with the trash
– Lockscreen visible
Information:
For devices with Android 4.3 or higher we use the notification access service which you have to activate.
Devices with 4.0 or higher will have to enable the accessibility service in system.
User Review:
Hi! I really love dashdow and the functionality it adds, but unfortunately I have to report a bug I noticed lately and I wouldn't know where to do so except here: everytime I get a voice message from one of my contacts and listen to it, dashdow stopps working and I have to open it and give it notification access again or it won't work. This everytime I start listening to a voice message. Maybe it's because of the new notification WhatsApp shows when listening to voice messages. Looking forward to your answer! (I'll also give 5 stars after your answer, I just put 2 so you see my message ? Edit: over one year later this is not fixed yet!!
– Google policy corrections
Dashdow WhatsApp Lite Apk file Information
File name: com.stallware.dashdow.whatsapp.lite.apk
Version: 2.55
Uploaded: July 28, 2016 at 1.30PM GMT+00
File size: 4.8M
Minimum Android version: 4.0 and up
App Developer: Stallware
Download Dashdow WhatsApp Lite 2.55 APK:
Old version of Dashdow WhatsApp APK
Version: 2.54
Size: 3.22 MB
Download Dashdow for WhatsApp 2.54 apk For Android