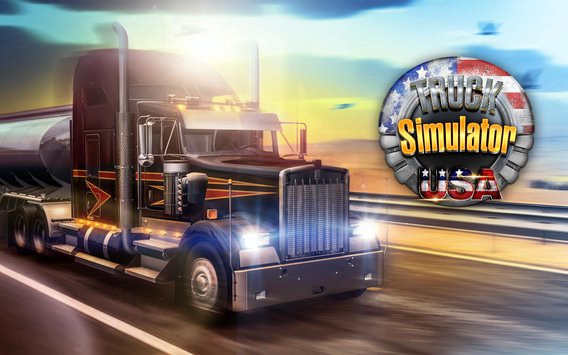 Want to know what driving an 18 Wheeler feels like? Truck Simulator USA offers a real trucking experience that will let you explore amazing locations. This American Truck Simulator features many semi truck brands, with realistic engine sounds and detailed interiors! Drive across America, transport cool stuff such as vehicles, gasoline, gravel, food, and many more Become a professional truck driver and enjoy the career and the online multiplayer mode!
Drive Across American, play Truck Simulator USA!
The best Truck Simulator 2017!
Features:
• Many American Truck brands
• USA, Canada and Mexico
• Different climate locations: desert, snow, mountain, city
• Improved Controls (tilt steering, buttons or virtual steering wheel)
• Manual Transmission with H-Shifter and Clutch
• Realistic Engine Sounds (V8, Cummins, etc..)
• Lots of trailers to transport
• Multiplayer Mode and Career Mode
• Visual and mechanical damage on vehicles
• New weather system (snow, rain, sun )
• Request new trucks or features on our Social Pages!
Category: Games/Simulation
Operating System: Android
Price: Free
WHAT'S NEW
-Stability Improvements
User Reviews/Opinion:
I think it's pretty good. I think there should be more truck shops spread out like the fuel stations to give you more opportunities to repair your truck, bc I drive it like I stole it lol. Or maybe instead of calling a wrecker to take you to the nearest one shop, maybe half the price you could call a mechanic out to fix it up some. All in all I like it.
Things you should add is the speed limit to show us how fast you need to go and alert us for the weight pull off. I found a bug in the game I stop at the red light and cars on the other side stop and I was sitting on red so I decided to go and got a ticket. Don't get me wrong this is a great game wishing I can't take the ads off heck I would even pay for it.
Truck Simulator FILE INFORMATION
Package name: com.ovilex.trucksimulatorusa
Version: 2.2.0 (25)
File size: 26.8 MB
Updated: April 4, 2018
Minimum Android version: Android 4.1 (Jelly Bean, API 16)
DOWNLOAD Truck Simulator 2.2.0 (25) APK
Old Versions
Truck Simulator USA 2.0.0
Package name: com.ovilex.trucksimulatorusa
Version: 2.0.0 (22)
File size: 26.9 MB
Uploaded: February 7, 2018
Minimum Android version: Android 4.1 (Jelly Bean, API 16)