Introducing HikeMoji, an incredibly personal way for you to bring your funnest, most expressive selves.
Just take a selfie & get your exclusive range of 100+ stickers featuring you in any of the 7 regional languages in addition to English & Hindi choose from — Gujarati, Marathe, bengali, Tamil, Kanada, télougou, Malayalam.
Once you have your base HikeMoji ready you can have over 1000+ hairstyles, facial features, bindis, local clothing, nose pins & more to choose from, to make your HikeMoji truly yours.
So get your HikeMoji Stickers now and show them off to your friends with easy and quick sharing across multiple platforms.
★ Sticker Suggestions – Get the best stickers you can send as you type on Hike Sticker Chat. We give you the right sticker at the right time to express anything you want to say at anytime.
★ Tap & talk: Tap on the sticker to quick reply or quick follow with another sticker. No need to type ⌨︎?‍♀️
★ Text to Stickers: Anything you type, turns into a sticker. Too good to be true? Check it out yourself! ?
★ Unlimited chat themes – Every chat needs a background! So choose yours wisely, from our range of chat themes. Make it personal! Make it fun! Make it you! ?
★ Hidden Chats – You can hide chats from the chat screen and access chats with a password ?An awesome feature only on Hike Sticker Chat. Your private conversations are finally now safe from anyone who takes your phone or knows your phone password ?
★ Privacy – Take charge of your privacy. Get complete control on who can see your last seen, profile picture, moments and stories. You can turn off last seen for specific people.
★ Swipe to Reply: Simply swipe a message to reply. As Chandler would say. "Could it get any easier?!" ?
★ Star Message: Some messages are like a classic movie, you want to see them over and over again. ⭐ The messages you want to save!
★ Encryption – Communicate without any worries on Hike Sticker Chat. All your chats and calls are protected with 128-bit AES and 2048 RSA encryption ? .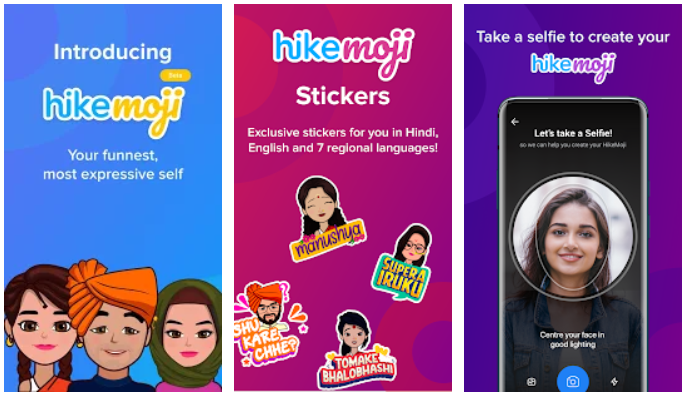 QUOI DE NEUF
★ Super excited to Introduce HikeMoji – your funnest, most expressive self ?
★ Just take a selfie to get exclusive range of 100+ stickers featuring you.?
Informations sur le fichier Apk:
Version: 6.2.173 (15445) armeabi-v7a
Forfait: com.hike.chat.stickers
Taille: 44.03 Mo (46,164,893 octets)
Prend en charge l'installation sur un stockage externe.
Download Hike Sticker Chat Apk