Towelroot Apk is a small tool root app to root your android device.  It is allow you to root your Android device in just a few seconds, all by installing the APK and pressing a button.
We can root Verizon and AT&T Galaxy S5 and Almost Everything Else with Towelroot!. We can use this app to root almost all major brand Android devices.
The developers of this app claim that this app supports more than 9000 devices.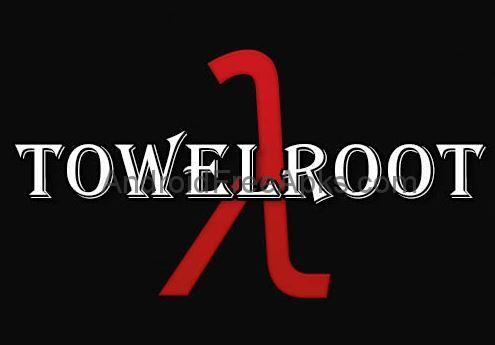 It can root almost all Android smartphones which are running on Android 4.4 KitKat operating system or versions before that!
The most important and amazing feature of this tool is that, it doesn't require you a PC to root your android. So, this is an standalone app that can function independently and root your android device in one click.
Towelroot Features:
 Simple One-Click Rooting Application: Towelroot is a very simple one-click rooting application. To use this app, all you have to do is install it in your device and click on the Make it Ra1n button given inside the app.
Smaller In Size: Towelroot Android app is the smallest rooting app. The size of this app is less than or close to 100kb, but it still works efficiently.
 Roots Any Android Device: Towelroot supports Android devices which are running on any version of Android between 2.2 and 4.4. Towelroot app supports AT&T and Verizon Android devices rooting as well.
 No Internet Connection Required: Towelroot doesn't require an internet connection to work. It works smoothly without an active internet connection. The only time you will need an internet connection is for installing the SuperSU app from Google Play store if Towelroot doesn't install it in your device.
Download Towelroot App (.apk):
APK File Name: Towelroot 3.0.apk
APK File Size: 109 KB
Package: com.geohot.towelroot
File Size: 109 KB
Android Version Supported: 1.5 or higher
TOWELROOT_V3.apk – Latest Version
Package: com.geohot.towelroot
File Size: 99.5 KB
Android Version Supported: 1.5 or higher
TOWELROOT_V2.apk
Package: com.geohot.towelroot
File Size: 108.8 KB
Android Version Supported: 1.5 or higher
TOWELROOT_V1.apk
Towelroot App Information:
Latest App Version: 3.0
Package: com.geohot.towelroot
File Size: 109 KB
Android Version Supported: 1.5 or higher
Supported DPIs: nodpi
md5: 2ee349f8087c8a69db101c4086460e14
Status: Working
How to Install / use towelroot Apk?
Go to Settings > Security > and opt in Unknown Sources to allow install third-party apps
Download Towelroot apk . Then Install downloaded apk file..
Run installed Towelroot.
Click on "Make it ra1n"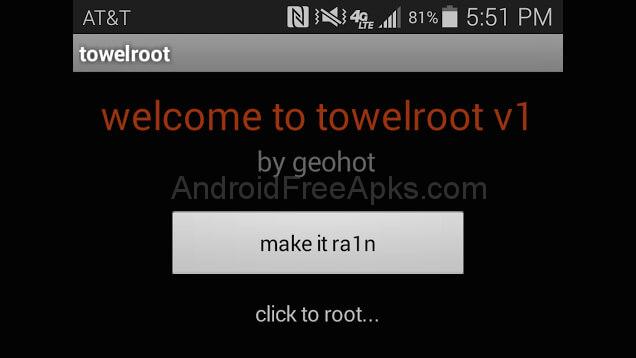 [[If your device is compatible, proceed to Next Step. But, what if your device is incompatible? Don't worry, there are many other apps for android that can root your device in one click. Here is the list of All One Click Rooting Apps for Android 360 Root, Framaroot, Towelroot, iRoot, Root Genius For Mobile, KingRoot.]]
Your device will reboot and your device is successfully rooted.
IMP Points:
 Towelroot has been discontinued by its developer, and it doesn't support Android 6.0 or newer versions.
you have to know that rooting violates the warranty of software of your android device. This means if any problem arises after rooting in software of your android device and your warranty period is still left, you have to pay to repair it. Although, warranty of hardware and other accessories wont be affected.
Neither Towelroot developers nor 8APK will be responsible for any of the issues caused because of rooting your device.
SuperSU or superuser that is installed automatically while rooting by towelroot.